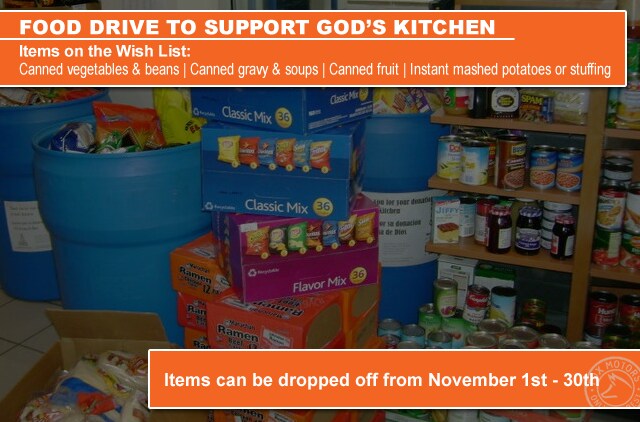 ---
Food Drive to Support God's Kitchen | November 1st through November 30th
Drop Off Locations: Fox Honda | Fox Saab
---
During the month of November we will be taking donations for food to help support the growing needs God's Kitchen. We feel that it is very important to stay involved in our community and will be taking this great opportunity to bless an organization that is local and is in need for extra food donations.

The donations will be used for God's Kitchen programs including Capitol Lunch, Meals on Wheels, and outreach food sites that provide no-cost hot meals once a week to anyone. Currently the supply for these programs is at an all-time low, while there is still a great need. In the last year alone, God's Kitchen's distributed 164,000 free meals in the West Michigan area.

Items on the Wishlist include:
Canned vegetables (peas, whole kernel corn, green beans, etc)
Canned gravy and soups
Canned fruit (peaches, pears, pineapple, fruit cocktail, etc)
Canned beans (kidney, dark red, pork and beans, etc)
Instant mashed potatoes or stuffing
Our employees, customers, and business partners are honored to be able to help support God's Kitchen and help people that are in need right here in our own community. Over the past 3 years, together we have raised 32,000 items. Anyone can help by dropping off non-perishables to Fox Honda or Fox Saab, both located in Grand Rapids. Together we can make a difference in our community. Cash donations will also be accepted at both Fox locations (3050 Broadmoor SE) as well as God's Kitchen (303 South Division).
For additional information, please contact Cindi Strotheide at 616.855.3647.Thank you for helping partner with us to make this a better community.